---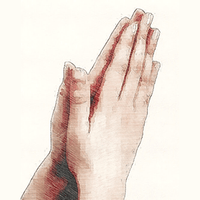 What makes prayer so particularly powerful?

No matter if you sit still, stand and sway, walk mindfully, dance ecstatically, or prostrate yourself repeatedly. . .
Regardless of meditating silently, bowing your head humbly, reciting a sutra or a psalm, chanting alone or with others, or lifting your voice and arms in joyous exultation . . .
Whether you petition, plea, praise, proclaim, provide, perseverate, or simply perceive what's present . . .
In spite of honoring your commitment, no matter whether it's once a day or five times, no matter how you happen to feel or where you might be . . .
Be you a person of faith or a non-believer . . .
Have you ever wondered how the act of praying can be, at once and all together, both incredibly grounding and, also, utterly earth-shattering?
Well, Larry Goldfarb did. Combining the understanding he's honed as a movement scientist and systems guy with three-and-a-half decades of experience as a Feldenkrais® trainer and teacher, he brought an unparalleled perspective considering the acts and attitude of prayer. In stillness and in flow, on his own and with others, as guide and coach, in collaboratories and classrooms, he asks us to consider what happens when we step away from the happenings of life.
"Listening is the beginning of prayer."
Mother Teresa
Inspired by how Moshe Feldenkrais explored the potential of the position of prayer in a few of the Awareness Through Movement® (ATM®) lessons he created, Dr Goldfarb found himself wondering:
Can I extend Dr. Feldenkrais' investigation further? Would it be worthwhile?
Everyone who participated in this year's summer camp already knows that the answer is most definitely YES on both counts!
Was there a potential series of lessons on this theme?
Absolutely. Larry started exploring this theme almost 15 years ago. What's more, he has been developing a couple of follow-on series.
Could I use the gestures and postures of prayer as building blocks for new ATM classes?
THE PECULIAR POWER OF PRAYER (PPP) plainly proves that the answer is yes! And gives you a dozen new lessons with which to start.
What does Moshe's method for developing our abilities have to offer anyone who prays?
Let me count the ways:
1) Praying is not penance, so comfort is of consequence.
2) How we engage in an act of reverence is at least as important as what the act is, so congruence counts.
3) Waking up from sleep-walking requires breaking the blindness of habit, so awareness matters.
Who else can benefit from doing these lessons?
The PPP series is good for folks who want to improve their dexterity, including musicians, athletes, sculptors, painters, knitters, magicians, and so on. These ATMs are also helpful for freeing the shoulders, neck, chest, and spine. Because you'll find and improve the connection between your hands and your heart as well as your hands and feet, they can be of benefit to may.
One more consideration: One of the recurring themes in these lessons is exploring and expanding how you pay attention, the PPP lessons foster body awareness, nurture the ability to shift attention, and develop a wide, inclusive way of noticing;
How does the practice of prayer inform us about what happens in lessons, why it's meaningful, and how it can last?
Come on! That's what these lessons are about . . .
And what about you?
Are you curious, too?
If so, the edited recordings of Larry's 2018 Feldenkrais® Summer Camp, The Peculiar Power of Prayer are available now. After you purchase these lessons, you have the choice of downloading the MP3 files and/or streaming them directly from the website. This program offers an earnest, ecumenical exploration of how we embody this fascinating facet of our human movement potential..
"The way to enlightenment is through the body."
Gautama Buddha
All told, PPP includes 12 ATM lessons. Each lesson consists of two parts, the first about learning to listen to yourself and the second is an orginal Awareness Through Movement lesson.
Originally these lessons were taught as a series of six weekly classes and a weekend workshop consisting of another six lessons, which happened during the series. The recordings included all twelve PPP lessons in the order in which they were taught. The sound quality is excellent and the files have been edited to clarity and ease-of-listening.
| | |
| --- | --- |
| HANDS CLASPED - IN THE BEGINNING | 1:05:21 |
| HANDS CLASPED - REACHING BEYOND | 1:05:39 |
| HANDS TOGETHER - UNTANGLING THE ROOTS | 1:08:03 |
| HANDS TOGETHER - UPLIFTING | 41:51 |
| HANDS TOGETHER - ILLUMINATING | 51:54 |
| HANDS TOGETHER - THE WAVE | 48:01 |
| HANDS TOGETHER -UNLOCKING POTENTIAL | 55:55 |
| HANDS TOGETHER - ONE WAY AROUND | 54:00 |
| HANDS TOGETHER - UNDERPINNINGS | 51:33 |
| HANDS TOGETHER - A GENTLE TURN | 1:07:12 |
| HANDS TOGETHER - IN AND OUT | 1:01:46 |
| HANDS TOGETHER - ENCOMPASSING | 50:15 |

Edited live workshop audio-only recordings
12 Feldenkrais Method® ATM® lessons
MP3 files
You can download or stream for immediate listening